Freshwater
It's hard to imagine anything more fun than fighting a big fresh-run salmon on light tackle in a shallow river small enough you can wade across - and in a more picturesque setting than Kodiak, Alaska!
---
We have six different freshwater locations to target. All are 5-15 minute flights from the lodge. The lodge owns its own floatplane, allowing us unprecedented access and flexibility. Rivers are highly regulated on Kodiak, and we are lucky to have permits on all of the best locations. These regulations ensure a pristine wilderness experience, rather than the crowds of "combat fishing on the mainland. Be sure to request that your guide prepare a "shore lunch where your guide takes one of your freshly caught fish and prepares a delicious meal over a fire on right on the riverbank. Forget "Farm to Table. It does not get any fresher than "River to BBQ in ten minutes!
Many lodges in Alaska advertise that they have five species of salmon to entice fisherman. ...And yes, Larsen Bay does have all five species, if you're counting. But in reality, there are only three that are considered desirable and avidly pursued by most fishermen in Alaska. The three highly prized salmon species are King (Chinook), Sockeye (red) and Silver (coho) Salmon. We have both early and late summer runs of sockeye, meaning that this delicious, rich, red fish is available all summer long. Kings tend to be earlier in the summer, and silvers later. Kings and silvers are also caught by trolling on the saltwater.
Silver Salmon (Coho)
Silvers are the second largest salmon species and have an average size of 10-12 lbs., but we catch them up to 20 lbs. or more. Silver Salmon flesh is more orange than red, and it has a mild flavor, with the firm flesh that is typical of the top three types of Alaska wild salmon. It is a favorite for grilling.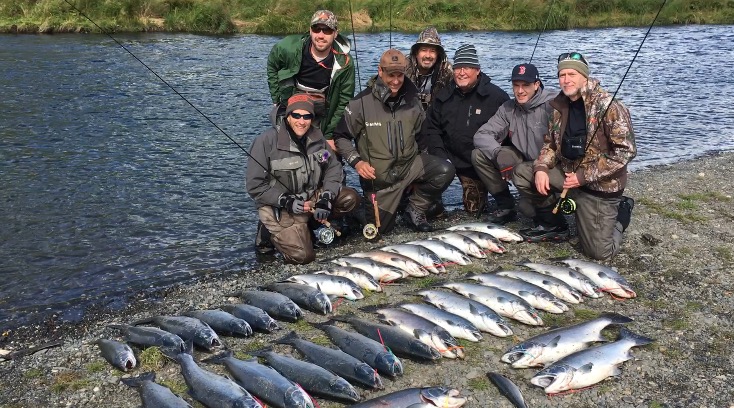 Red Salmon (Sockeye)
Most people agree that the Red salmon is the best table fare and a hard fighter pound for pound.
Salmon Facts

Proper Name

CHINOOK
SOCKEYE
COHO
PINK
CHUM

Alaska




Common




Name

King
Red
Silver
Humpy
Dog

Average




Weight

25 - 30 lbs
5 - 8 lbs
15 - 20 lbs
3 - 5 lbs
1 - 15 lbs

Average




Length

30" - 40"
20" - 26"
25" - 30"
20" - 26"
22" - 28"
Table Fare
Very Good
Great!
Great!
Poor
Poor
Comments
Biggest
Best Eating

Most




Aggressive

Not highly




sought after

Not highly




sought after
Trout
Besides the all mighty salmon, freshwater catches include Artic Char and several varieties of trout such as steelhead, rainbows, and Dolly Varden. The anadromous Dolly Varden are extremely abundant and like its close relative, the Eastern brook trout, the Dolly Varden is excellent eating, having excellent pink meat. It is also one of the prettiest native fish in Alaska! This colorful and feisty little fish range in size from 12-24 inches and typically weigh 1-6 lbs. Dolly Varden are not picky and will usually strike almost anything the angler offers. We often catch Dollies on the beach in front of the lodge. If you haven't had enough fishing for the day, grab a pole after dinner and head down to the beach.
We provide all the spinning gear, boots and waders. We also have a few fly-rods for those wanting to try out this popular method. For hardcore flly fishermen, we recommend bringing your own gear.
KING SALMON
RED SALMON
SILVER SALMON
DOLLY VARDEN
STEELHEAD
FLY ROD

10 wgt.

6-8 wgt.

7-8 wgt.

3-5 wgt.

7 wgt.

LINE TYPE
Sink tip
300-400
grain
Sink tip
intermediate
to 200 grain
Floating or Sink
tip
300 to 400
Floating
weight
forward
12# test
floating or
sink tip
TIPPET

12-20 lb.

10-12 lb.

14 lb.

6-10 lb.

12 lb.
No matter whether you are a fly fisherman or prefer spinning tackle, fish freshwater or saltwater, use the floatplane or one of the boats in our fleet to access the fishing, you can't beat the variety, convenience, comfort, beauty, and diverse wildlife found at Larsen Bay Lodge on mystical Kodiak Island, Alaska! Experience the adventure!