Kodiak Brown Bear Hunting
Bigfoot is no myth...and he lives on Kodiak Island, Alaska
---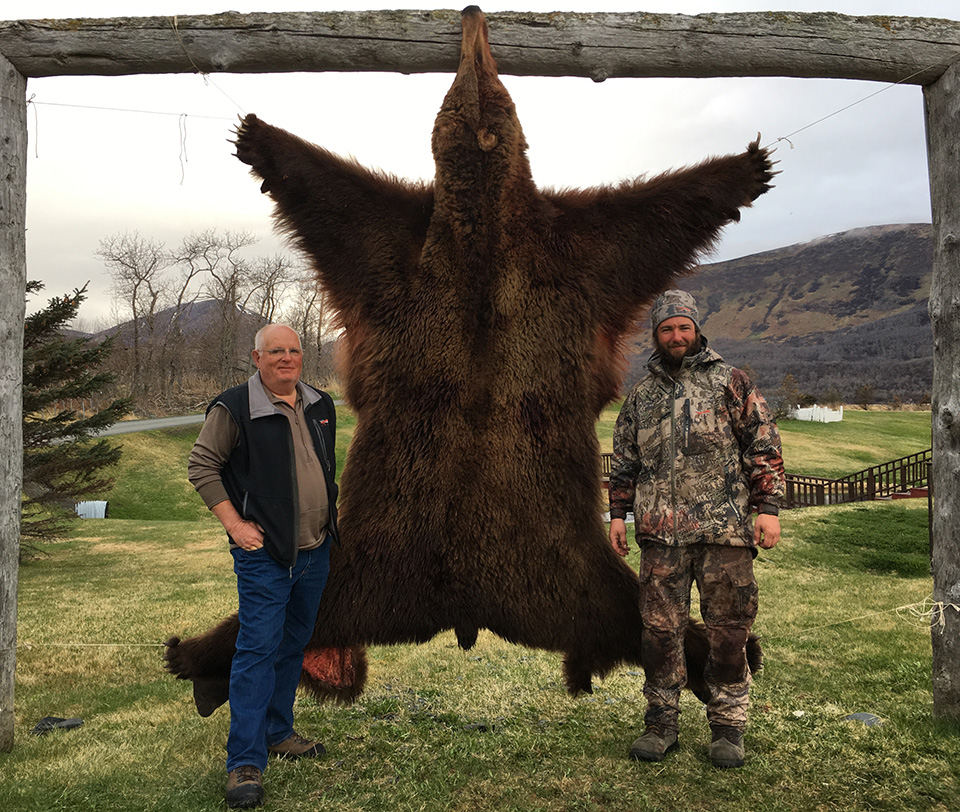 Mike Carlson's Kodiak Brown Bear hunts are an experience of a lifetime! Much of the hunting is done from a boat with a drop ramp and heated cabin. The advantage being you can cover significantly more ground than on foot and are not spreading scent. Accommodations are in a comfortable lodge with a five star chef, satellite TV and WiFi. Mike also has exclusive guide use areas, which means you are guaranteed a tag. These areas surround the famous Karluk Lake and Karluk River which have the largest salmon runs, which means the largest bear population, on Kodiak Island. Further, he is a member of the Koniag Tribe which means you are hunting on private native lands which no one else can access. Check him out on The History Channel's "The Hunt". Mike is featured on three of the episodes.
While many large animals in North America find their way to the endangered species list, the Kodiak brown bear is a success story in the management of wildlife. The Kodiak bear is healthy and productive throughout the archipelago and its population is actually increasing. In fact, the Kodiak bear population is at an historic high. According to Alaska Department of Fish & Game estimates, there are 3,500 bears on the Kodiak Archipelago. The vast majority of these bears live in the protected lands of the Kodiak National Wildlife Refuge. There are so many bears on Kodiak that while the rest of Alaska has an alternating spring and fall seasons, on Kodiak there is a bear season every spring and fall. Mike distinguishes himself as an ethical, responsible, experienced bear guide with the most effective means of hunting bears.
Here is a recent review from The Hunting Report:
Fred Drasner (Report 10549) hunted at Larsen Bay Lodge (www.larsenbaylodge.com; 907-847-2238) with guide Carlson for 10 days starting in late April. He writes, "Larsen Bay Lodge is the Four Seasons of AK bear lodges. Great people, great food, great accommodations. I've been at this for almost 60 years and this was one of my best hunts. I saw about six bears a day, with 12 sighted on the day I harvested a nine-foot bear. I saw three huge bears that were not reachable, and loads of Sitka blacktail deer.
We reached Drasner via email. He told us, "I was tired of living in wet tents and wanted to hunt from a lodge. It was very comfortable with showers, satellite TV and internet. The food was outstanding, and the excellent chef accommodated all requests. I took an observer along who had an excellent time.
"This operation has a great area on Kodiak. On good weather days we cruised the shoreline in a boat. If we saw something, we would land on the beach and stalk. When the weather did not permit boating we went into the mountains using ATVs and hiked for spot-and-stalk opportunities.
"Guide Mike Carlson was as good as they come, and his assistants and packers were also terrific. They all worked tirelessly. With much encouragement (and some mild, humorous abuse) they got me into places that I thought there was no way I could reach. It was the most fun I've had on a hunt.