Saltwater Fishing
Larsen Bay Lodge offers truly superb saltwater fishing! Halibut, salmon, lingcod, rockfish (including the delicious yellow-eye) black bass and crab are a few of the varieties that await in the deep. We have spacious landing-craft boats with bathrooms and heaters, first class fishing equipment, and knowledgeable guides.
---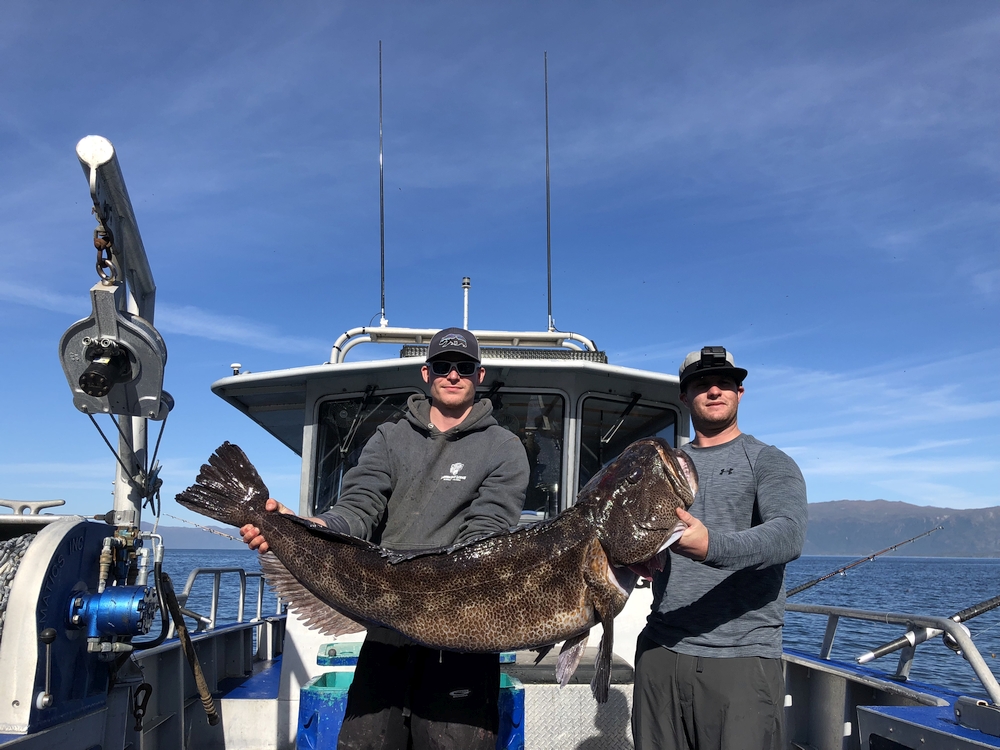 Halibut
Halibut are huge fish that are a blast to catch on stand-up tackle! But they are also absolutely delicious to eat! It is prized for its delicate sweet flavor, snow-white color and firm flaky meat. Halibut is arguably the world's premium whitefish. One of the best things about halibut fishing at Larsen Bay Lodge is that you don't have to travel for hours by boat across open water to get to the fishing grounds, (like you do in most other parts of Alaska). We have caught 300lb. halibut within 300 yards of the lodge! Most of our halibut fishing is done close to shore and in protected bays. You also don't have to go deep. Our halibut are typically caught at 80-150 feet. While they average 40lbs, we frequently catch halibut over 150lbs and have caught halibut over 400 lbs. in the past.
We generally will anchor, but occasionally if the conditions are right, we will drift for them with our baits just off the bottom. Halibut are like flounder in more than appearance. They bite the same way - you feel them nibble and then you let them take the bait before you set the hook. We use circle hooks and J hooks with a variety of baits and jigs. With over 20 years experience, we know the best locations and will put you in the fish!
Yellow-Eye Rockfish
Another favorite saltwater species is the Yellow-Eye Rockflish, which taste similar to Red Snapper. White and flaky. It is a beautiful fish with a vivid color. Biggest goldfish you'll ever see! Other delicious rockfish include black bass, black cod and china rockflish.
Salmon
Both the mighty King (Chinook) Salmon and the powerful Silver Salmon (Coho) are found in abundance in our bays
Lingcod
Lingcod season opens July 1. Lingcod is a Pacific species whose scientific name – Ophiodon elongatus– says it all. Its roots – the Greek ophis for snake, odons for tooth, and the Latin word elongatus or elongated – provides a fitting description for this odd-looking fish. Despoite its looks, it is delicious and rivals halibut for taste.
Snow Crab
Last but not least…snow crab! We set out a crab pot for each group and you can eat it while you are here or freeze it and take it home.
Mysteries of the Deep
You never know what you are going to find at the bottom of that line!
As an added bonus to the outstanding fishing, you will often see bald eagles, whales, Steller Sea Lions, puffins, harbor seals, and sea otters, during the day. It can be a sightseeing extravaganza!